Design Miami/ 2021 Now Open
1-5 December 2021
Design Miami/ returns to Miami Beach for its 17th edition with over 40 exhibitions alongside an impressive series of talks, satellites and collaborations. The fair has also expanded its digital offering for 2021, introducing the Official Design Miami/ Mobile App, a curated selection of NFTs for sale and becoming the first major fair to accept payment in cryptocurrency.
Design Miami/ 2021 Award Winners
Design Miami/ has announced the Best in Show award winners for this year's Miami fair:
Best Gallery Presentation: Southern Guild, Cape Town
Best Curio Presentation: ATRA, Mexico City
Best Historic Work: Wendell Castle Chest of Drawers at R & Company, New York
Best Contemporary Work: Halo by Bradley Bowers at The Future Perfect, New York, Los Angeles, San Francisco
Official Design Miami/ Mobile App
Design Miami/ is excited to introduce the Official Design Miami/ Mobile App. The new app is a companion to Design Miami/ events, offering users the ability to engage like never before; navigate the show floor like a seasoned VIP, unlock exclusive offers, browse Design Miami/ fairs through 3D tours and, for the first time, click-to-buy exhibited works right from the show floor. The iOS app is available to download now.
Cryptocurrency Sales
Building on it's digital innovation, Design Miami/ is excited to be the first major fair to accept cryptocurrency. Payment can be made through Coinbase for any objects available on the online marketplace. Browse the selection here.
NFTs
Design Miami/ is also offering an exclusive, highly curated collection of NFTs, commissioned from select artist-designers from the fair's international creative community. This premiere collection is available for purchase through the OpenSea platform and presented onsite at the fair. NFTs are on auction for a limited time through December 5 at 6pm. R & Company have contributed NFT designs from Job Smeets, Katie Stout, Sebastian Errazuriz, and Studio Proba while Friedman Benda presents multiple works from Misha Kahn.
Virtual Tours
This year's fair has also also expanded its digital offering through virtual curated tours by thought leaders and experts, powered by Matterport technology. Explore the fair through 3D curated tours available here.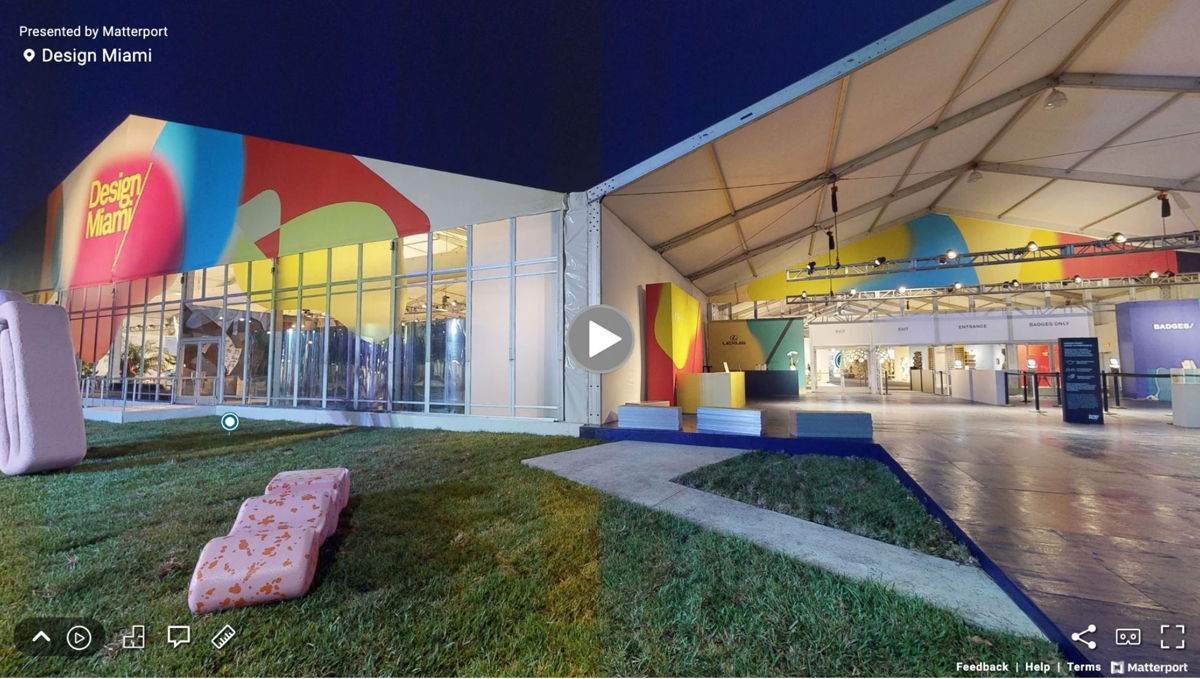 Talks Program
The Design Miami/ 2021 talks program embraces the fair's hybrid format, offering both in-person and digital talks, available to visitors around the world. Inspired by the Human Kind theme, discussions will explore the current state of the world and where we need to go. For the "15 Minutes On Design & Human·Kind Digital Talks Series," topics include Design as Social Practice, Othering Queer Aesthetics, and the Psychedelic Renaissance.
​
​The full schedule of talks can be found here.
---
Design Miami/ 2021 Galleries/
​AGO Projects/ Mexico City
​Ateliers Courbet/ New York
​Bernard Goldberg Fine Arts, LLC/ New York
​Carpenters Workshop Gallery/ New York
​CONVERSO/ Chicago
​Friedman Benda/ New York
​Hostler Burrows/ New York
​Jason Jacques Gallery/ Clinton Corners
​Jeffrey Deitch/ New York
​John Keith Russell/ South Salem
​Magen H Gallery/ New York
​Moderne Gallery/ Philadelphia
​Ornamentum/ Hudson
​R & Company/ New York
​Salon 94 Design/ New York
​SIDE Gallery/ Barcelona
​Southern Guild/ Cape Town
​The Future Perfect/ San Francisco, Los Angeles, New York
​Thomsen Gallery/ New York
​Todd Merrill Studio/ New York
​Volume Gallery/ Chicago
​Wexler Gallery/ Philadelphia
Design Miami/ 2021 Curios/
​APICAL REFORM & zeel studio/ Gujarat
​ATRA/ Mexico City
​Bea Interiors Design/ Miami
​Bohinc Studio/ London
​Gallery ALL/ Alhambra, Beijing
​Harry Nuriev/ New York
​House of Today/ Beirut
​J. Lohmann Gallery/ New York
​James de Wulf/ Los Angeles
​Mercado Moderno/ Rio de Janeiro
​Mindy Solomon Gallery/ Miami
​Objective Gallery/ Shanghai
​PELLE/ Brooklyn
​Room 57 Gallery/ New York
​RUEMMLER/ New York
​Tom Dixon/ New York
​Tuleste Factory/ New York
​Twenty First Gallery/ New York
​VERDI/ Bogota
​
​DM/BX/ 2021 Exhibitors
​Agustina Bottoni/ Milan
​Andreu Carulla/ Girona
​Anders Hamilton presented by BKLYN CLAY/ Brooklyn
​Andrew Casto presented by Mindy Solomon Gallery/ Miami
​Ashley Porrini presented by Wexler Gallery/ Philadelphia
​Birnam Wood Studio presented by Tuleste Factory/ New York
​Charlie Cunningham presented by Wexler Gallery/ Philadelphia
​Christopher Kurtz/ New York
​Dara Schaefer/ New York
​Dean Roper presented by BKLYN CLAY/ Brooklyn
​Glenn Barkley presented by Mindy Solomon Gallery/ Miami
​Gustav Hamilton presented by BKLYN CLAY/ Brooklyn
​Katharina Kaminski presented by AMEN Candles/ Paris
​Kiyoko Morioka presented by Ippodo Gallery/ New York
​Kyle Mello Dixon presented by Wexler Gallery/ Philadelphia
​Roberto Lugo presented by Wexler Gallery/ Philadelphia
​Sarah Allwine presented by BKLYN CLAY/ Brooklyn
​Soleil Carlos presented by BKLYN CLAY/ Brooklyn
​Maria Beckmann presented Tuleste Factory/ New York
​Magen H Gallery/ New York
​R & Company/ New York
​Ries Studio/ Buenos Aires
​RRRES Studio/ Oaxaca
​Ruby Kean presented by Tuleste Factory/ New York
​Studio Proba/ Portland, New York
​Toni Losey presented by J. Lohmann Gallery/ New York
​Timbur presented by Tuleste Factory/ New York
​Tom Dixon/ New York
​Tomoyuki Hoshino presented by Ippodo Gallery/ New York
​Tuleste Factory, New York
​Quinaz Studio/ Miami
​
​Design Miami/ 2021 Partners/
​Fendi
​Grand Seiko
​Maestro Dobel
​Perrier Jouet
​Kohler
​Lexus
​Miami Design District
​Panerai
​SCAD
​USM
​Doha Design District
​W South Beach
​Convelio
​AIG
​BADG
​Dior
​Phaidon and Books & Books
​Superblue
Design Miami/ 2021
​1-5 December, Miami Beach
Schedule of Events/
​Wednesday, December 1/
​VIP Preview/ 11AM - 1PM
Public Show Days/
​Wednesday, December 1/ 1–8PM
​Thursday, December 2/ 11AM–8PM
​Friday, December 3/ 12–8PM
​Saturday, December 4/ 12–8PM
​Sunday, December 5/ 12–6PM
---
Sarah Ferrall Associate Director, Camron PR
Grace Englefield Senior Account Manager, CAMRON