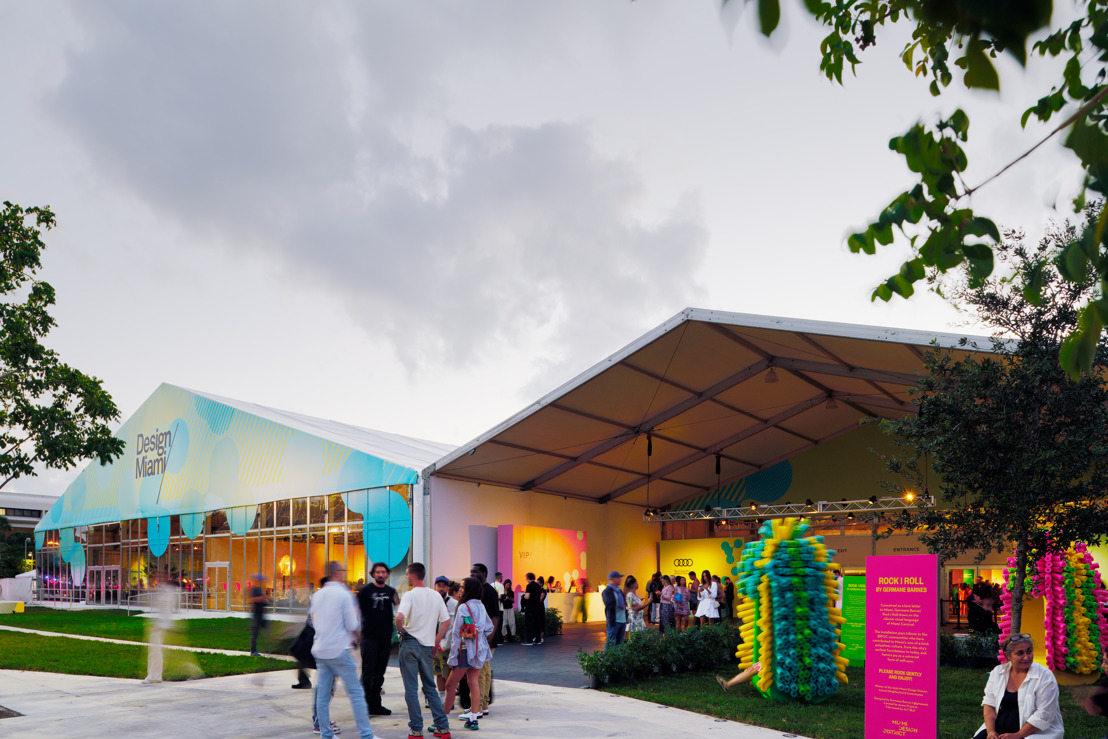 DESIGN MIAMI/ 2022 NOW OPEN
Miami, 30 November 2022/ - Design Miami/ returns to Miami Beach for its 18th edition exploring The Golden Age: Looking to the Future, with a range of thought-provoking presentations, alongside an impressive series of talks and collaborations.
Open until Sunday December 4th, this year's fair features over 50 gallery and Curio presentations showcasing the very best in historic and contemporary collectible design from around the world.
A CONVENING FOR VIRGIL ABLOH/
A Convening for Virgil Abloh was a one-day symposium celebrating the life, legacy, and practice of Virgil Abloh, one of the foremost designers and creative talents of our generation. The occasion was an opportunity to reflect on his work as a designer and to imagine the shape its reverberations might take next.
Taking place in the Design Miami/ Talks Theater, the symposium included six discussions, each devoted to a different facet of Abloh's practice: Architecture and Placemaking; Conceptual Art; Graffiti; Material Culture; Music; and Design. Participants included luminaries in these fields, many of whom Abloh counted as friends, collaborators, mentors, and mentees such as Hans Ulrich Obrist, Benji B, Dozie Kanu, and Futura amongst others.
The Design Miami/ Talks Theater features a site-specific installation devised by Theaster Gates, as part of a new commission that the artist has dedicated to Virgil. Gates invokes sacred spaces in his use of church pews as the theater seating in acknowledgment of the University of Chicago's open ecumenical investment. On the surrounding walls, Gates mounts two new iterations in his Civil Tapestry series of paintings, integrating Virgil's iconography as a tribute to his life and work. The installation creates a contemplative space foregrounding Virgil's legacy throughout the fair's programming.
A Convening for Virgil Abloh was presented by the Virgil Abloh Foundation in partnership with Design Miami/.
GUFRAM PRESENTS EXCLUSIVE COLLABORATION WITH AMERICAN ARTIST AND DESIGNER A$AP ROCKY DEBUTING AT DESIGN MIAMI/
Gufram (Barolo) makes its Design Miami/ debut with a Curio booth presenting the launch of the Shroom CACTUS ® a new edition by multi-hyphenated artist, entrepreneur, actor and fashion icon A$AP Rocky and his design studio HOMMEMADE.
Gufram's Curio space at Design Miami/ resembles a bright green and utopian forest where the Shroom CACTUS® takes center stage. Under a blue sky with fluffy clouds and gigantic mushrooms illustrated on the walls, visitors are encouraged to walk on a grass-like carpeting which covers the ground where dozens of ceramic flowers are scattered.
THE VILLAGE POTTER BODEGA/
R & Company presents The Village Potter Bodega by Roberto Lugo at Design Miami/, the brand's first-ever physical pop-up with a bodega-inspired storefront, stocked with functional, shoppable objects that reinforce the idea that art and design are for everyone. Starting today, the pieces will also be available online for a limited-time at designmiami.com.
The PANGAIA x Roberto Lugo capsule collection will also be available at designmiami.com for the duration of the fair. The collaboration combines Miami-inspired color with exclusive artworks depicting themes of resourcefulness, togetherness, and community. With each purchase, a portion of the proceeds will be donated to Taller Puertorriqueño, a community-based cultural organization whose purpose is to preserve, develop and promote Puerto Rican arts and culture.
BEST OF SHOW AWARDS/
BEST GALLERY/
​This year's award was tied between:
Sarah Myerscough Gallery/ London
Magen H Gallery/ New York

​BEST CURIO/
​This year's award was tied between:
​
​Stroll Garden/ Los Angeles
Tuleste Factory/ New York
BEST HISTORIC WORK/
​
​Dining Table by Jose Zanine Caldas at Diletante42/ São Paulo

​BEST CONTEMPORARY WORK/
​
​Pair of Max Lamb Chairs at Gallery FUMI/ London

​PARTNER HIGHLIGHTS/
Maestro Dobel Tequila's Artpothecary
Maestro Dobel Tequila's Artpothecary presents the Mexican Golden Age, celebrating the birth of the modern Mexican aesthetic. At the direction of Artpothecary Creative Director and Anónimo Colectivo Founder Alejandra Martinez, and in collaboration with Mexico City based design studio Clásicos Mexicanos, Maestro Dobel Tequila's Mexican Golden Age uses original designs by pioneering architect Ricardo Legorreta from his Vallarta collection — as seen at the Hotel Camino Real in the early 1970s in Puerto Vallarta, Mexico.
Audi x Andrés Reisinger
As the global automotive partner for Design Miami/ Audi is presenting a new immersive and experiential digital installation in cooperation with digital artist and designer Andrés Reisinger. The new work is inspired by the Audi grandsphere concept*, an outlook to the future of premium mobility by Audi.
Together with Andrés Reisinger the brand explores a sphere beyond a physical installation, digitally re-interpreting interior spaces. Audi has the vision to create a better future for generations to come and this attitude is deeply rooted in the brand, striving for progress. For Audi, the future is a space – for ideas, innovations and designs. By re-thinking design and approaching it from inside out, the Audi grandsphere concept* demonstrates a human-centric experience, a personal sphere.
*The vehicle mentioned is a concept vehicle that is not available as a production vehicle.
FENDI presents Triclinium by Lukas Gschwandtner
This year, FENDI has invited Vienna-based artist Lukas Gschwandtner to make a new body of work.
The series, called Triclinium, which consists of wearable canvas sculptures referencing historical portraits of women reclining on furniture, is now infused by Gschwandtner's interest and attachment to the history of ancient Rome, 'The Eternal City' where Fendi was founded, its art and its architecture as translated through mediated imagery.
Come Stai? A chair by Gaetano Pesce with Matthieu Blazy for Bottega Veneta
For its first partnership with Design Miami/, Bottega Veneta is presenting a site-specific installation that follows an unprecedented commission by creative director Matthieu Blazy. Earlier this year, Blazy commissioned Gaetano Pesce to design the space of Bottega Veneta's Summer 2023 show in Milan. The space included a sculptural resin floor and 400 resin chairs, created in a spectrum of vivid colors. At the heart of this project is the Come Stai? chair, a new expression in Pesce's oeuvre, which echoes his lifelong quest for individuality and diversity. The commission sees a selection of chairs presented and available for purchase until December 4 at 153 NE 40th St, Miami, FL 33137, within the Miami Design District.
To mark this collaboration, a dedicated Bottega Veneta microsite is now live at designmiami.com

​MATTERPORT TOURS/
Design Miami/ continues to reach global audiences through its hybrid approach to fair programming, offering robust digital access to audiences across the world. Immersive 3D curated tours of the fair will be made available through Matterport technology. All objects presented on the show floor will also be available to shop in realtime, via designmiami.com, from today. Explore 3D tours here: https://www.designmiami.com/tours/miami-2022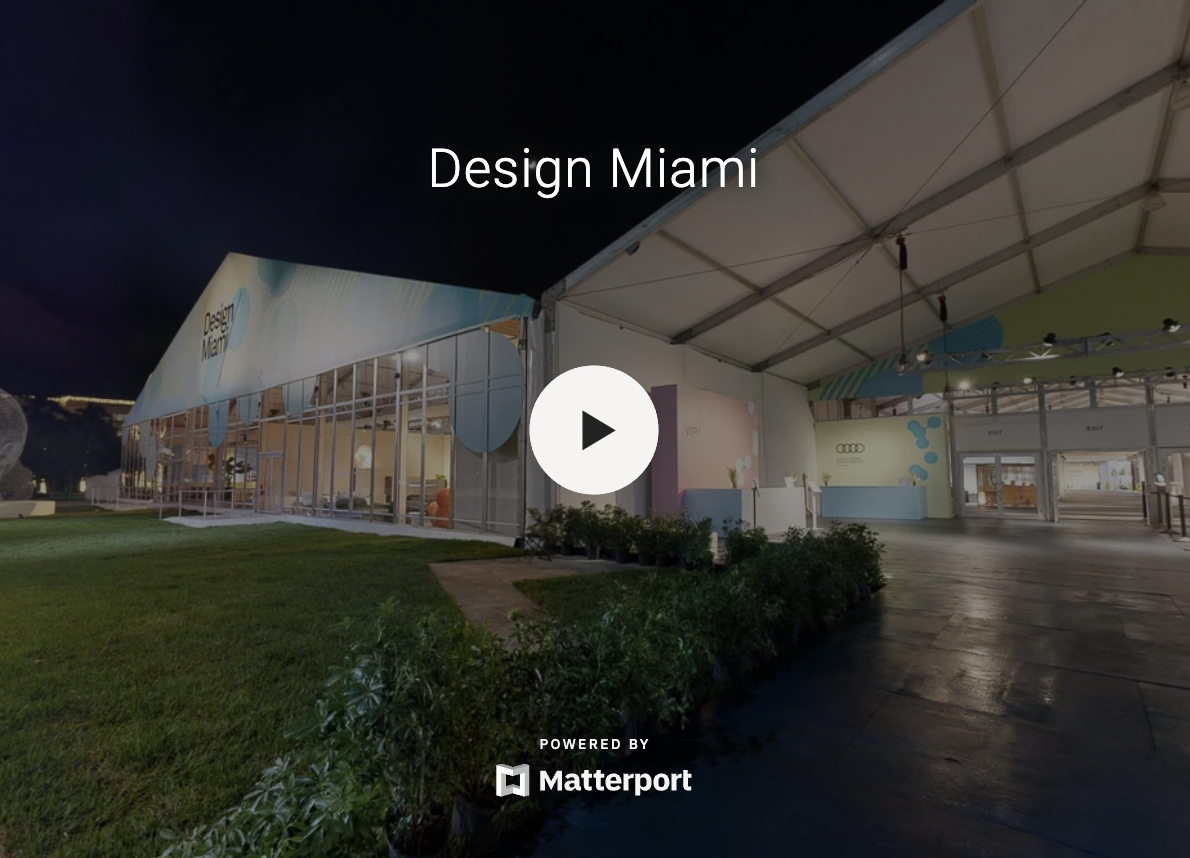 DESIGN TALKS/
The Design Miami/ 2022 talks program, curated by the fair's 2022 Curatorial Director, Maria Cristina Didero, explores the intersectional nature of design. Embracing the hybrid format, a curated selection of talks will be made available digitally on December 8, 2022. Browse the program here: https://shop.designmiami.com/pages/talks.
---
Design Miami/ 2022 Galleries/ ​ ​ ​ ​
AGO Projects/ Mexico City
Ateliers Courbet/ New York
Bernard Goldberg Fine Arts/ New York
Carpenters Workshop Gallery/ Paris, New York, Los Angeles, London
CONVERSO/ Chicago
Cristina Grajales/ New York
Diletante42/ São Paulo
Friedman Benda/ New York
Gallery ALL/ Beverly Hills
Galerie BSL/ Paris
Galleria Antonella Villanova/ Foiano Della
Galerie Maria Wettergren/ Paris
Galerie Negropontes/ Paris
Galerie Patrick Seguin/ Paris
Galerie SCENE OUVERTE/ Paris
Gallery FUMI/ London
Hostler Burrows/ New York
Ippodo Gallery/ New York
Jason Jacques/ New York
John Keith Russell/ South Salem
Lebreton/ Monaco
Magen H Gallery/ New York
Mercado Moderno/ Rio de Janeiro
Mindy Solomon Gallery/ Miami
Moderne Gallery/ Philadelphia
Nilufar/ Milan
Objective Gallery/ New York
Ornamentum/ Hudson
R & Company/ New York
Sarah Myerscough Gallery/ London
Southern Guild/ Cape Town
The Future Perfect/ New York
Thomsen Gallery/ New York
Todd Merrill Studio/ New York
Twenty First Gallery/ New York
Wexler Gallery/ Philadelphia
​ ​ ​ ​ ​
Design Miami/ 2022 Curios/
Aqua Creations/ Englewood
Elisabetta Cipriani/ London
Emma Scully Gallery/ New York
GUFRAM/ Barolo
Harry Nuriev/ New York, Paris
J. Lohmann Gallery/ New York
MONIOMI Design/ Miami
Objects of Common Interest/ New York
R & Company/ New York
Rademakers Gallery/ Amsterdam
Room 57/ New York
Stroll Garden/ Los Angeles
Superhouse/ New York
Tuleste Factory/ New York
Design Miami/ 2022 Partners/
AIG Private Client Group
Audi
Bottega Veneta
Crozier
Dolce&Gabbana
FENDI
Grand Seiko
Kohler
Maestro Dobel
Miami Design District
Molteni
Orient Express
Panerai
Perrier Jouet
SCAD
USM Modular Furniture
W South Beach
Public Show Days/
Wednesday November 30/ 1pm–7pm
Thursday December 1/ 11am–7pm
Friday December 2/ 12pm–7pm
Saturday December 3/ 12pm–7pm
Sunday December 4/ 12pm–6pm
Visiting the Fair/
Tickets are now available to purchase, please click here.
To learn more about the 18th edition of Design Miami/, please visit www.designmiami.com.
To register for a press pass, please visit https://shop.designmiami.com/pages/press-dm22.

​NOTES TO EDITORS
About Design Miami/Design Miami/ connects the world through extraordinary collectible design, with live fairs on three continents that bring together galleries, designers, brands, experts, collectors, and enthusiasts. Each edition of Design Miami/ features museum-quality 20th and 21st century furniture, lighting, and objets d'art from the world's top, expertly vetted galleries, in addition to showcasing immersive design collaborations with celebrated brands. With flagship fairs taking place alongside Art Basel in Miami, Florida, each December and Basel, Switzerland, each June, Design Miami/ is also accessible 365-days a year through designmiami.com, a content-rich digital marketplace featuring works from leading galleries and original editorial and video content on Forum Magazine.
Grace Englefield Senior Account Manager, CAMRON
Emily Bilgore Senior Account Executive, CAMRON