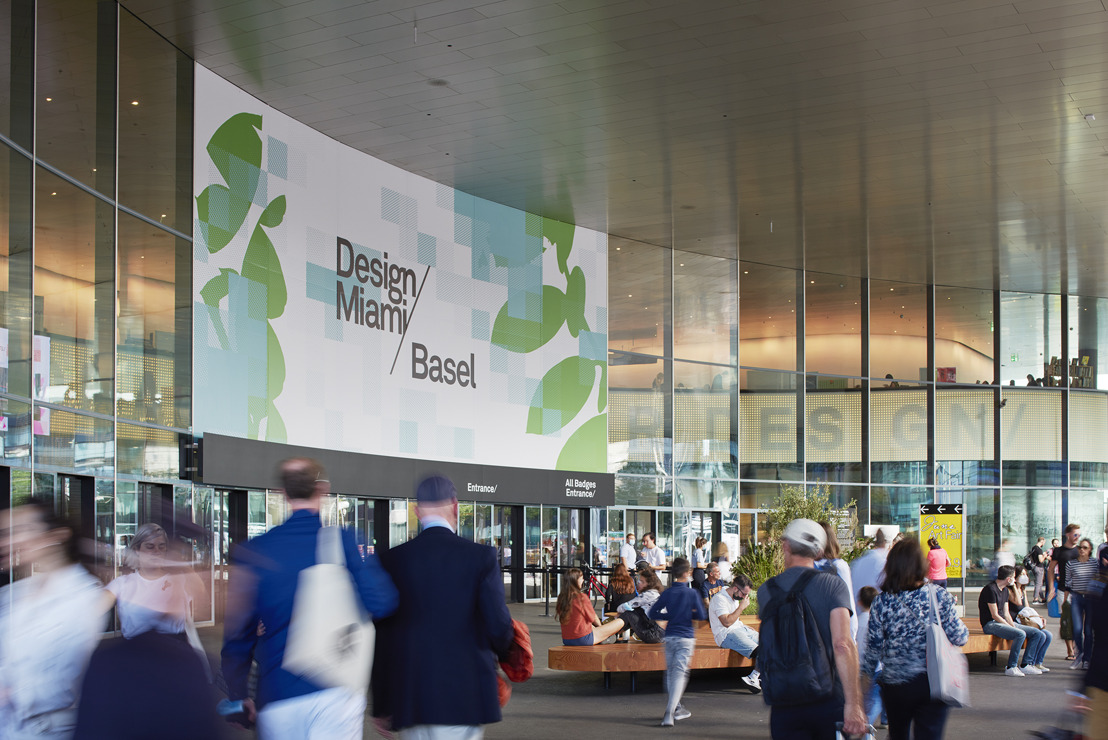 Design Miami/ Announces Gallery Lineup for Sixteenth Edition of Design Miami/ Basel
Basel, February 24, 2022 - Design Miami/ today announces the lineup of 30 international galleries set to take part in the Sixteenth edition of Design Miami/ Basel which will take place 14-19 June 2022 in Basel, Switzerland. The first show to be helmed by recently appointed Curatorial Director Maria Cristina Didero, many exhibition elements of the fair will explore the thematic of The Golden Age. After success in 2021, Design Miami/ will also continue to present its flagship events in a hybrid physical and digital format, offering an array of digital programming, bespoke content from the Basel fair and opportunities to shop the show floor directly online.
Jennifer Roberts, CEO of Design Miami/ said: "We're delighted to see such enthusiasm from the galleries to return to Basel in June and the quality of the exhibitions is outstanding. The integration of new digital elements in our program also means that galleries, designers and visitors who may not be able to join us in Switzerland this summer will still have the opportunity to engage with Design Miami/ in a meaningful way".
Basel will see a strong showcase of historic and contemporary design from over 30 international design dealers including Carpenters Workshop Gallery (Paris, London, New York), Pierre Marie Giraud (Paris), Galerie DOWNTOWN - François Laffanour (Paris) and Thomsen Gallery (New York). Design Miami/ welcomes new galleries to the Basel fair in 2022, including French gallery, Galerie Negropontes (Paris) who will debut new work by designers including Gianluca Pacchioni and Erwan Boulloud.
New York-based gallery Friedman Benda will showcase two exhibitions for Basel including the first solo presentation of American designer and sculptor Mischa Kahn's work at the fair. Dimoregallery will also return to Design Miami/ Basel for 2022, presenting a collection of iconic mid-century Italian works from the gallery's archive in a museum-like exhibition that will include designs by Gio Ponti and Claudio Salocchi amongst others. Dutch gallery Morentz will also celebrate masters of design, presenting their booth as an emulation of a 21st century collector's home, the Waalwijk-based gallery will juxtapose works by European, American and Brazilian designers including Hans J. Wegner, Paul Evans, Osvaldo Borsani, and many more.
Design Miami/ Basel will also feature a number of international galleries and designers as part of the 2022 Curio program. The Design Miami/ Curio platform invites designers, architects, curators, innovators and gallerists to present total environments of objects, textures, artifacts and ideas that challenge and contextualize familiar design narratives. Curios are interspersed amongst Design Miami/'s gallery program, infusing the fair with inventive snapshots of today's design landscape. The Curio lineup and further details on Design Miami/ Basel 2022 will be announced in the coming weeks.
Please see below for the full list of galleries participating in Design Miami/ Basel 2022 or visit www.designmiami.com.
---
Design Miami/ Basel 2022 Galleries/
Carpenters Workshop Gallery/
​Dimoregallery/ Milan
​Friedman Benda/ New York
​Galleria Rossella Colombari/ Milan
​Galerie Antonella Villanova/ Foiano Della Chiana
​Galerie Chastel-Maréchal/ Paris
​Galerie DOWNTOWN - François Laffanour/ Paris
​Galerie Eric Philippe/ Paris
​Galleri Feldt/ Paris
​Galerie Jacques Lacoste/ Paris
​Galerie kreo/ Paris, London
​Galerie Matthieu Richard/ Paris
​Galerie Meubles et Lumières/ Paris
​Galerie Mitterrand/ Paris
​Galerie Negropontes/ Paris
​Galerie Pascal Cuisinier/ Paris
​Galerie Patrick Seguin/ Paris
​Galerie Philippe Gravier/ Paris
​Galerie SCENE OUVERTE/ Paris
​Gokelaere & Robinson/ Brussels, Knokke
​Guelfucci Gallery/ Rome
​Hostler Burrows/ New York
​Jousse Entreprise/ Paris
​Lebreton/ San Francisco
​Maria Wettergren/ Paris
​Morentz Gallery/ Waalwijk
​Pierre Marie Giraud/ Brussels
​Thomas Fritsch-ARTRIUM/ Paris
​Thomsen Gallery/ New York
​Todd Merrill Studio/ New York
Schedule of Events/
Preview Day/
​By Invitation Only
​Monday, June 13/
​Collector's Preview/ 12-6 PM
​VIP Preview/ 6-8 PM
Public Show Days/
​Tuesday, June 14/ 11 AM - 8 PM
​Wednesday, June 15/ 11 AM - 8 PM
​Thursday, June 16/ 11 AM - 7 PM
​Friday, June 17/ 11 AM - 7 PM
​Saturday, June 18/ 11 AM - 7 PM
​Sunday, June 19/ 11 AM - 7 PM
For more information please contact Camron/
Sarah Ferrall Associate Director, Camron PR
Grace Englefield Senior Account Manager, CAMRON