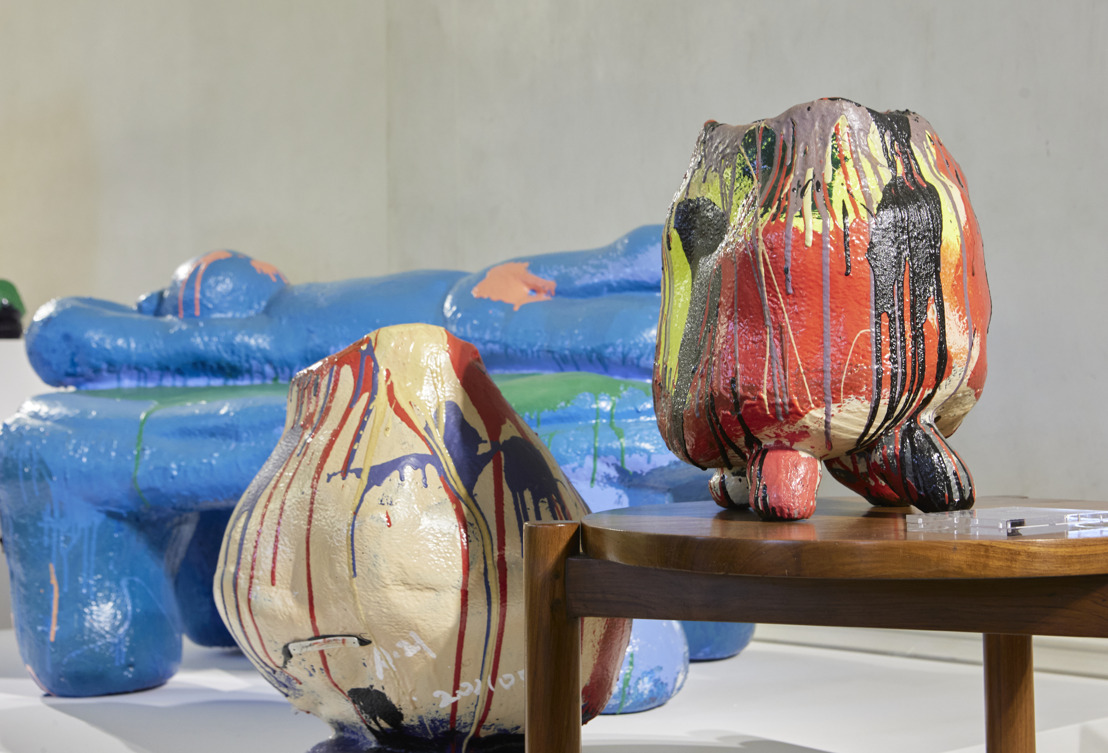 Design Miami/ Podium x Shanghai Now Open
4-14 November 2021
Design Miami/'s first collectible design event in Asia explores the theme 'Wu Gan: The Art of Design' with 25 podium exhibitors, 5 gallery booths, and an exciting series of talks, satellites and collaborations
The inaugural edition of Design Miami/Podium in Shanghai is now open. Located on the city's historic Bund at No. 1 Wai Tan Yuan, the Shanghai fair is presented in partnership with Made in House and co-hosted by Hantang Culture, and curated by outgoing Curatorial Director, Aric Chen, and Deputy Curator (Shanghai), Violet Ruhui Wang. Across the Podium exhibition and gallery booths, the fair highlights exceptional international and Chinese talent including both historic and contemporary masterpieces.
The Hybrid Experience: Talks Program, 3D Tours and Shoppable Works/
Presented both in-person and online, the Design Miami/ Podium x Shanghai talks program covers a range of topics, from "Another Modern: Shanghai Art Deco" to "Collectible Design in China, in the World" and "Expanding Craft: Different Meanings of Handmade." Celebrated panelists include Chinese contemporary artist Ding Yi, designer, Alexander Groves, interior designer, Ju Bin, and pianist and composer Yang Bao, among others.
Notable highlights of Design Miami's online event experience also include 3D tours of the exhibition in Shanghai powered by Matterport technology and curated by thought leaders such as Wallpaper China and interior designer, gallerist and Made In House founder, Chris Shao.
View the Matterport tours here: https://www.designmiami.com/tours/shanghai-2021
DM/BX
Visitors to Design Miami/ Podium x Shanghai are also be able to experience DM/BX, the newly launched online shop by Design Miami/, in person. Highlighting works by locally-based designers, DM/BX celebrates contemporary works that touch on traditional crafts and traditions, such as designer Pili Wu's Plastic Classic chair which integrates the elegant curves of the iconic Ming dynasty round-back chair and the seat of a quotidian plastic chair. The DM/BX works shown on-site in Shanghai are also be available to shop online, expanding the reach of these unique artists to Design Miami's global audience. ​
Visit DM/BX at: www.designmiami.com/shop/dmbx
---
Design Miami/ Podium x Shanghai Galleries/
Galerie Patrick Seguin/ Paris
​R & Company/ New York
​PearlLam Galleries/ Hong Kong
​Gallery All/ Shanghai
​Joseph Walsh Studio/ Cork, Ireland
Podium Exhibitors/
André Fu/ Hong Kong
​Art & Deco Gallery Shanghai/ Shanghai
​Art+ Shanghai Gallery/ Shanghai
​Carpenters Workshop Gallery/ London, Paris, New York
​Cristina Grajales Gallery/ New York
​Etage Projects/ Copenhagen
​Friedman Benda/ New York
​Gallery Sohe/ Hangzhou
​Hao Zhenhan/ Jingdezhen
​Heatherwick Studio/ London
​JiangJiaban /Xiamen
​Li Naihan/ Shanghai
​MadeIn Gallery/ Shanghai
​Mindy Solomon Gallery/ Miami
​Moderne Gallery/ Philadelphia
​Neri&Hu Design and Research Office/ Shanghai
​Nilufar Gallery/ Milan
​Objective Gallery/ Shanghai
​Ornamentum/ Hudson, New York
​RÉN SPACE/ Shanghai
​Salon 94 Design/ New York
​SIDE Gallery/ Barcelona
​The Future Perfect/ Los Angeles, New York, San Francisco
​The Wrong Shop/ London
​Volume Gallery/ Chicago
DM/BX Exhibitors/
HAN Gallery/ Shanghai
​neooold/ Hangzhou
​Room 6 x 8/ Beijing
Schedule of Events/
Preview Day/ By Invitation Only
​Thursday, November 4th/
​VIP and Press Preview/ 1PM – 7:30PM
​Friday, November 5th/
​VIP Preview/ 11AM – 7:30PM
Public Show Days/
Saturday, November 6th/ 11AM – 7PM
​Sunday, November 7th/ 11AM – 7PM
​Monday, November 8th/ 11AM – 7PM
​Tuesday, November 9th/ 11AM – 7PM
​Wednesday, November 10th/ 11AM – 7PM
​Thursday, November 11th/ 11AM – 7PM
​Friday, November 12th/ 11AM – 7PM
​Saturday, November 13th/ 11AM – 7PM
​Sunday, November 14th/ 11AM – 6PM
---
Notes to Editors
About Made in House/
Made in House (MIH) is a creative consultancy and art advisory headquartered in Shanghai, China, with a focus in the commercial and hotel real estate sector. The company was established by a team of specialists in design, art and strategy development. MIH creates impact and longevity for projects seeking to define their place in China's real estate landscape. By helping companies build-out their brand architecture and art programs with a tailored voice, MIH strives to create both impact and relevance for the contemporary Chinese audience.
About Hantang Culture/
Established in 2003, Hantang Culture is a Chinese Media group based in Shanghai, with an international reputation for customizing creative video content and digital marketing solutions for luxury brands. Guided by its philosophy of "beauty personified, cultivated worldwide," it has taken the lead in promoting East-West cultural exchanges that focus on the art of living and the excellence industry. Hantang Culture is the co-host for Design Miami/ Podium x Shanghai.